Well, at least…MamaBear decrees it will be happening this weekend!
Yes indeed, this weekend is the utterly bizarre thingee known as:
Now, for those normal sane readers who actually have lives outside of anime, let me explain to you just what this gala event *is*.
For the full weekend, hordes of rabid anime fans dressed rather, ahem, uniquely, will be descending upon Somerset NJ and ingesting 392,493 metric tons of, well, anime stuff.
And they'll dress up!
Like…
Still, though, MamaBear has to admit – she really does enjoy the convention.
It sure is interesting to see how others dress, scope out the vendors' room for things that should cost $20 and instead are snapped up at $120, and the like. 🙂
Of course, there *are* ways to make it lots of fun and very safe…and methods to be really darned idjut like too!
If you're an Okatu (yes! MamaBear *knows* the lingo! HAHAHAHAHAHAHA!), you'll love:
---
Anime Convention Survival Tips
and if you're a parent, delve into:
---
Parents, Moms and Dads Guide to Anime Conventions
And what is MamaBear dressing up, I'm sure you're wondering?
Why of course…
A Ninja Tamer!

In other words, a close-fitting black top, black baggy pants, and my signature studded collar and leash on my belt (no, MamaBear doesn' wear them, she merely carries them for trapping wayward ninjas. 🙂 )
Oh, and speaking about *the* belt, here it is.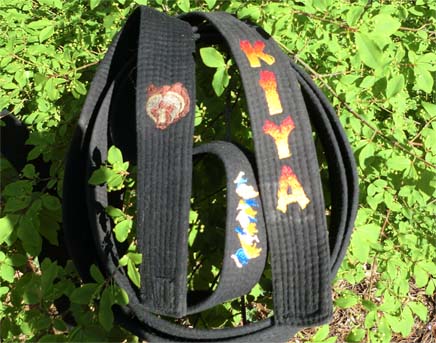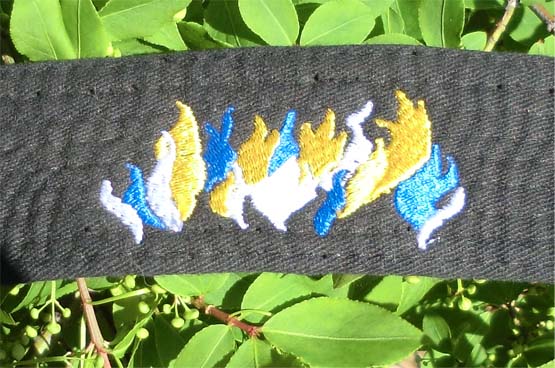 The story behind the MamaBear black belt is pretty neat, actually….
Last May, I earned my first degree black belt in Goju-Ryu karate.
Around that time, I decided to hit some estate/garage sales with my husband, and I found the above black belt for a dollar (sans embroidery).

I bought it, and then asked myself, was there any other area in my life where I felt I had earned a black belt?
And then it hit me like a ton of angsting emo teens.

My nickname at the dojo really is MamaBear, and if there's one thing at which I kinda sorta tend to excel, it's parenting.

So why not fine-tune the belt to that!
I visited my local mall, uncovered an embroidery kiosk, and the above Mama Bear Black Belt is what resulted.
And I love it!!
The anime convention is the only time I give myself permission to wear it in public. And you have to admit…
It makes a dandy addition to any Ninja Taming outfit out there! 🙂

Parent powerfully,
— MamaBear