Morning!
Okay, actually….good morning.
Well, it would be good, really, once I have all of my coffee infused within my operating system, that is.
But I digress. 🙂
Over the past decade or so, I've designed nifty neato learning goodies for the Mama Bear cubs that have really been quite the benefit!
And it occurred to me that sharing them is a Very Good Thing indeed.
So! With that, up for today is the Exciting Common Latin Roots Wall Posters that I had designed back in 2005!
I taped these up in what's now the Hall of Ling (where there's now approximately 305 8.5×11 printed pictures of the Mama Bear Cubs from 2001 until now). During Camp Ling 2005, HD1 and HD2 had to pick a word daily from that list and either write a story, draw a picture about it, etc.
I first got that idea by reading Frank Gilbreth's Cheaper by the Dozen book – the patriarch of that family would tape up various and sundry academic goodies all over the place.
Interesting note about that family – did you know an official Gilbreth network exists? You can access it at The Gilbreth Family Online. It's really quite fascinating!
Anywhos, right-click below on the latin roots picture to save it to your computer (it has 6 or so pages).
Feel free to share it with your friends as well! It can be a nifty addition indeed to summer camp. 🙂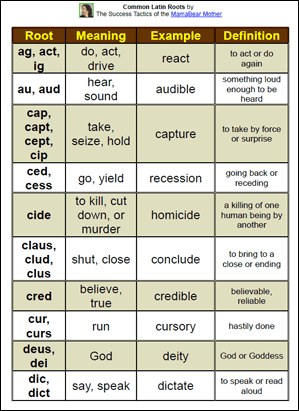 Parent well,
Mama Bear